Clipper Ship "Flying Scud"
The Flying Scud was sold a London, in April 1863, and became the British ship Cestrian, of Liverpool, J. Thompson owner. From 1865 to 1871 she is listed as owned in Liverpool, by C. H. Pickering, and commanded by Captain Fotergill and later by Captain McGarrey.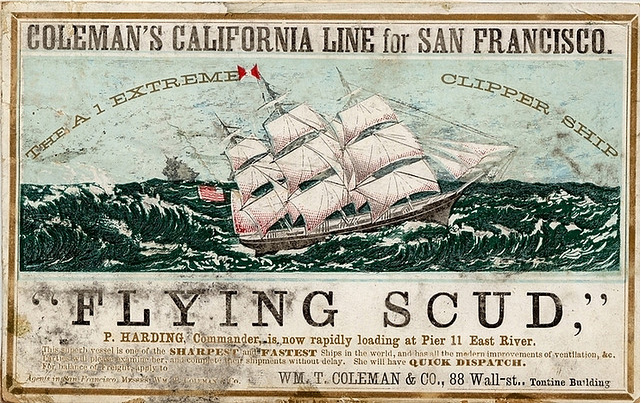 Flying Scud, color woodcut, Nesbitt and Co. New York, ca. 1855. Department of Rare Books and Special Collections Princeton University Library. [Click image to enlarge}
History of clipper ship "Flying Scud" renamed "Cestrian"
Extreme clipper ship built in 1853 by Metcalf & Norris, Damariscotta, ME. Dimensions: 221'×41'×23′ and tonnage 1713 tons OM.

1853 November 2 – Launched at the shipyard of Metcalf & Norris, Damariscotta, ME.
1854 [?] – Sold in New York for $100.000 to parties in that city.
1854 March 23 – Sailed from New York under command of Captain Patten for Liverpool where she arrived after 29 days.
1854 September 28 – Sailed from New York under command of Captain Warren Bearse, Hyannis, for Melbourn where she arrived after 80 days. Sailed 449 miles on November 6 and covered a distance of 4620 miles during a period of 16 days.
1856 March – Captain Rodney Baxter, Hyannis.
1856 April 14 – July 4 – Sailed from New York to Bombay in 81 days.
1859 September 26 – Arrived at Liverpool 92 days from Bombay.
1861 February 5 – May 15 – Sailed from Whampoa to New York. Was struck by a whirlwind on May 4 at 25°N, 66°40'W which carried away all three topgallant masts with the furled sails and all sails set except for the spanker.
1861 November – One eighth share of the ship was sold for $3500.
1862 February 28 – June 27 – Sailed from New York to San Francisco in 188 days.
1863 April – Sold to J. Thompson, Liverpool, and was renamed Cestrian.
1865-1871 – Listed as being owned by G.H. [Charles William Harrison] Pickering, Liverpool.
Clipper Ship Flying Scud in a Gale by artist, William G. Yorke (1817-1893 c.). Oil on Canvas 25 3/4" x 36 1/4" (65.4 cm x 92.1 cm) Signed: "Wm York L.pool Octr 1859. This is among the earliest known dated paintings by William G. Yorke. It shows the Americn clipper ship Flying Scud in a gale with many of the crew up on the main yard actively engaged in furling the main course.
The ship is still pressing forward on port tack under reduced canvas while smaller ships in the background have also reduced sail significantly to cope with the gale.
This painting is in the votive style with the shaft of light suggesting a protective divine presence.
She was reportedly often overloaded and sailing out of trim. Even so; upon examination of the documented average speeds throughout her career; she is to be considered one of the fastest clippers ever built. She was sold to British interests in April 1863 and renamed CESTRIAN and went into the England-India service.
She made a voyage from New York to Liverpool; arriving on September 26; 1859 under Captain Rodney Baxter. This was probably when the painting was made to commerate a storm encountered en route.
Contributed by: Jeff Tozier, San Francisco, CA.
I am the grandson of one of his twin daughters Rosamond [Pickering] (as I have always spelled it). I knew my grandmother for over 20 years. She and my grandfather, Will Tozier, are buried in a military cemetery at the Presidio near the Golden Gate Bridge. That is where several of the Tozier men (from Kansas) trained and shipped out to the Philippines during the Spanish American War.
My grandmother [Rosamond Tozier] left my father (and then, in turn, me) many family memories and artifacts. Among them are pictures of Pickerings that go back to an undated picture of Mrs. Charles Wm. Pickering. This is a seated photo of her taken at Montebello in a dress she supposedly wore as a Lady in Waiting to the court of Queen Victoria. Our bedroom wall has the framed family crest of Charles W. H. Pickering. I also have two detailed articles about the life of Henry A. Pickering which appeared in the Salina Journal on August 2nd and 20th of 1940.
In your web page you note that all of the models of ships carved by Henry Pickering have probably been lost. Not all of them are gone!
In a lighted showcase in my home, I have a wonderfully detailed model of the three masted, extreme clipper ship named Cestrian. She had 17 sails and required a skilled crew and lots of expensive canvas. For such a heavy merchant ship she was quite fast, logging 4,620 nautical miles in 16 days for an average run of 288 miles per day. At another time, running in strong gales, she made 449 miles in a single day. The ship sailed all over the world to ports like Liverpool, Marseilles, New York, San Francisco, Melbourne, China, Bombay, Calcutta.
Built in Maine in 1853, she was one of the largest sailing ships ever built at 221 feet long and with a displacement of 1,713 tons (twice the size of the average clipper). My research at the library of the San Francisco Maritime Museum turned up all this information. Upon launching at the shipyard she was described as "being of sharp model, very strongly built and in every way a fine ship". The archives also describe many of the accomplishments of the ship which was originally named the Flying Scud. She was renamed the Cestrian when she became a British owned ship out of Liverpool in April of 1863. The archives listed G.H. [ed. probably a typo and should be C. H.] Pickering as the last known owner from 1865 to 1871.